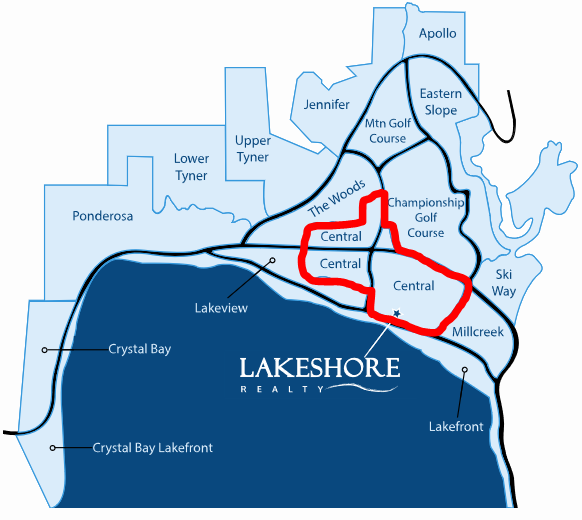 This week our featured neighborhood in Incline Village is the Central Subdivision! Incline Village and Crystal Bay real estate is broken down into 16 different "subdivisions" which are more commonly known as neighborhoods.  In this case, the Central subdivision has actually been broken down into two parts, Central North and  South with the dividing line being HWY 28. You can see our subdivision map here to get an idea of where the Central subdivision is located.
The Central Subdivision has the highest concentration of condominium developments in the Incline Village real estate market. While it is a high density area, its central location and proximity to "downtown" are a big draw for those who prefer to be close to town.
While many complexes are older, most have been renovated, with new roofs, siding and landscaping, so the area has maintained a fresh look without new construction and the higher property prices that come with it.
Full time residents and vacation owners alike love this area for its location: Walk to the beaches, movie theater, shopping, restaurants, schools, post office, Recreation Center, tennis complex, Hyatt Regency, biking and walking trails, par course, skateboard park, churches, banks and library. Snowfall is minimal to moderate, and being the main area of town, snow removal is prompt and thorough.
So far this year, 112 properties have been sold in the Central Subdivision making it the most popular neighborhood in the entire Incline Village and Crystal Bay market. The vast majority of these properties have been condominiums; 102 to be exact. The reason is that the market for second homes has increased in price significantly, making condominiums a more affordable option for vacation and even primary home buyers. The Central neighborhood is closest to all of Incline Village's ammentities and attractions and is the natural choice when looking for a smaller and centrally located property.
The median sold price in this subdivision this year has been $424,000 which is still relatively low when compared to the rest of our market. With a low sold price of $145,000 and a high of $1,275,000, the Central Subdivision is remarkable diverse which leaves many options for potential buyers to view.
For a quick video on the overall market in Incline Village, click here!