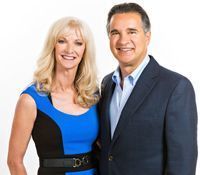 Lakeshore Realty
Your Real Estate Professionals
Incline Village Real estate is synonymous with Chris and Patti Plastiras . They have over 35 successful years working in the Incline Village real estate market. As the founders of Lakeshore Realty, Chris and Patti have a well-established niche in selling luxury lakefronts, homes, town homes, condominiums and commercial property on the Incline Village real estate market and the Lake Tahoe area.
Recent Reviews
---
Skylake Property
First, thanks again for your help with the Skylake property!  We're super happy with the outcome, and we couldn't have pulled the trigger without the all the other properties you'd shown us before Skylake appeared.  And working with you guys through the actual transaction process was terrific.  You are consummate pros.
Thanks!
Bought a home in Incline
First class service and knowledge. Very fair, over and above to make sure the transaction goes through without a hitch. Will use again. Thank you. Highly recommend Chris and Patti.
v911king
,
Incline Village, NV
Bought a home in Incline Village
Chris and Patti were outstanding real estate agents. Coming from California with the desire to find another home in Incline Village, we were given not only professional advice but personal care and consideration. They perceived exactly what type of home we wanted and acted in our behalf at every step of the buying process. By the close of escrow, I considered them friends and I trusted their recommendations for all our needs. We really were fortunate and blessed to have met them.
benfirpo
,
Incline Village, NV.
Bought a home
I was very fortunate to have met such a fine and trustworthy person. I met Chris by chance when looking for a vacation property and I have gotten to know him over time. He provided excellent guidance to us as we considered several different properties through the purchase transaction. I would highly recommend Chris to anybody looking for expert real estate guidance he is extremely knowledgeable, trustworthy and thoughtful.
Sold a Single Family home for approximately $800K
We have known Chris Plastiras for a number of years working on various community activities together. When the time came to list our house, there was no question we would select Chris and Lakeshore Realty. He provided the professional assistance we needed throughout the process for establishing the listing price to providing us with the final escrow closing papers. In this challenging market, we were able to sell our home in five months and received nearly ninety-four percent of our listing price. The Lakeshore Realty staff is also outstanding, especially Sheila who was most valuable throughout our selling process.
pastor777712
,
Incline Village, NV.
Sold a Single Family home for approximately $8.9M
Chris and Patti Plastiras, the owners of Lakeshore Realty, closed 3 separate sale transactions on exclusive Incline Village lakefront properties for us during the difficult 2010 climate. They put in extensive efforts beyond the call of duty in order to insure that the properties were well presented and all sales impediments were dealt with. Even after each sale closed they worked tirelessly to follow up on all loose ends.
gvwalsh
,
Incline Village, NV.
Bought a Single Family Home
Patti helped me purchase a house in 2009. Wonderful agent, and since that time Patti and Chris have become friends. Top notch…. you cannot go wrong with their services!
shaneaj2
,
Incline Village, NV.
Bought a Condo
Chris helped us purchase our first home in Incline Village. We were very happy to have him as our real estate agent. He is very professional and knowledgeable. We loved working with him and we will definitely recommend him.
Nadia F
,
Incline Village, NV.
Bought a home
We have completed 3 transactions in total with Chris, all of them were excellent experiences. Chris managed to create a team between my husband, which is the financial side, myself, creative and Chris. That is not always an easy task. His advice always on the spot and always, always putting the interest of the other parties ahead of his own. Don't get me wrong, he is always happy to make the transaction happen, but that is where the difference lies with Chris, he adds a personal interest to the sale. It has to be mentioned that their team is also amazing.
Paola Stoll
,
Incline Village-Crystal Bay, NV
Bought a Condo home for approximately $2.025M
Chris has been a pleasure to work with , not only during the purchase, but months after. He contacted the prior owners with questions we had regarding some after the sale issues, and his follow up has been very impressive. Since we are new to the area, it has been very helpful to ask for the names of local vendors and businesses that they have worked with and trust. I would recommend Chris and his office staff highly.
Robeech
,
Incline Village, NV.